Your ad featured and highlighted at the top of your category for 90 days just $5.
Choose "Make this ad premium" at checkout.
How to Get $100. in Free Advertising Credits on TheFreeAdForum.com
Free Advertising Credits
Classified Ad Marketing
15. Aug 2021
4783 views
Here is an easy way to get $100. of free advertising credits to use on TheFreeAdForum.com. Once you have the credits you can use them to upgraded your ads to Premium.
Once you post your free ad you will  then have the option at the end of the checkout process to pay for upgrades from your TheFreeAdForum.com wallet.
1. Click on this link to open our rotator.

A page will open of with a website.  Keep clicking on the above link until you find a website like this:
Then click on the link which says "See here to claim your $100 in bonus credits. You will then be lead to a form which looks like this: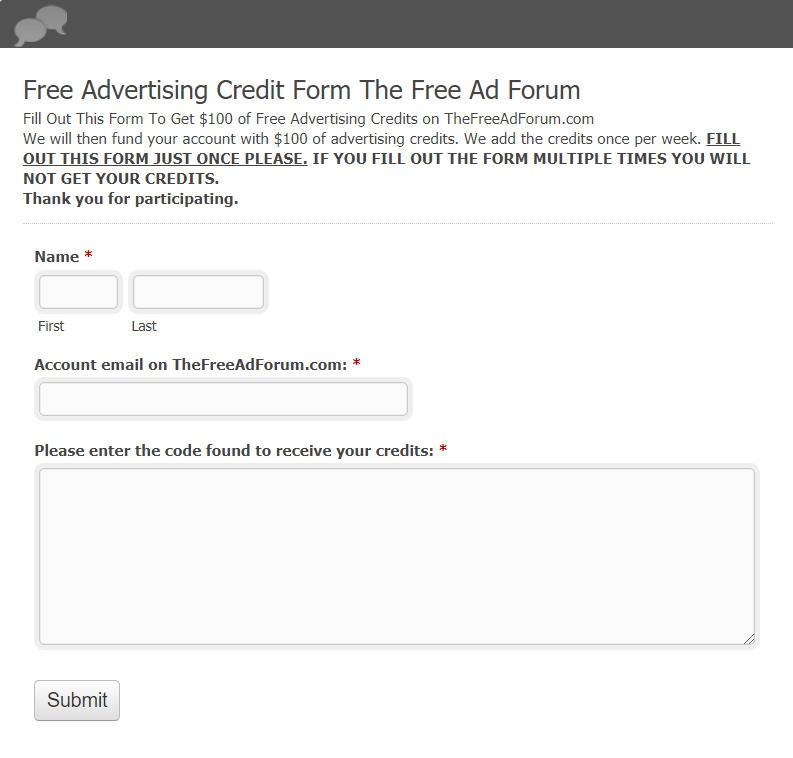 You can fill fill in the code, which changes regularly, along with the email associated with your account on The Free Ad Forum. You must have an account with The Free Ad Forum to get the credits.

Then within a few days we will add the credits to your account. We add credits once per week. You can get credits once per month per account.
Once you have the credits you can use them at checkout when posting free ads and upgraded your ads to rotate in the Premium sections of the site both on the homepage and in your category.
We hope this helps you get some cost effective exposure for your ads.
All the best,
TheFreeAdForum.com
Comments
No comments has been added on this post
Add new comment
You must be logged in to add new comment.
Log in
Categories
Tutorials
This category will have articles and videos including software tutorials, marketing tutorials, email marketing tutorials, affiliate marketing tutorials, and classified ad marketing tutorials.
Affiliate Marketing
Affiliate marketing tips and strategies. We will discuss not only our own in house affiliate programs, https://www.realppvtraffic.com/affiliate-program, https:/www.classifiedsubmissions.com/affiliate-program, https://www.classifiedsubmissions.com/affiliate-program but also strategies to make money with Clickbank, Amazon,ShareASale, CJ Affiliate and Avantgate.